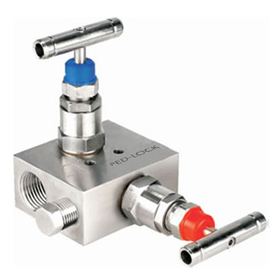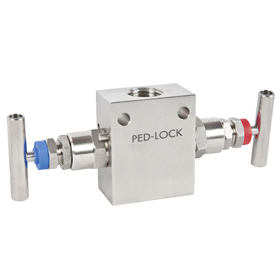 Two Way Manifold Valves
Two Way Manifold Valves have distinctively designed differential pressure transmitters and are very functional as instrument manifold. The differential pressure transmitters attach to the Flow Records so as to Impulse the Line Tubing. We offer connectors of various sizes like ¼", ½" & ¾" NPT in compliance with ANSI B1.20.1. Our valves are fabricated with the help of thread milling with a high finishing. These valves are offered to enhance the sealing efficacy with the aid of a very highly accurate machine.
Salient Features
The designing of this valve is very efficient and compact so that they can be installed without the consumption of a lot of space.
Hence the total size of equipment in which this valve is installed can be reduced and very compact equipment can be produced with the help of it.
Minimizes the number of Leakage Points
Least Operating Rotation
Standard Non Rotating Tip
Hard Stem Tip for powerful Shutoff as well as Durability
Color Coded Dust Cap is fixed
Bonnet Locking for inadvertent Removal
Quality Material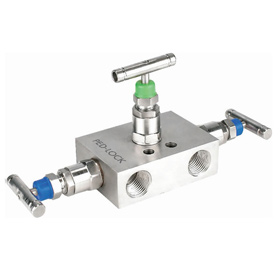 Three Way Manifold Valves
Three Way Manifold Valves are utilized in the instrument manifold and are particularly designed for differential pressure transmitters. Flow Records are connected to Impulse Line Tubing with the help of these pressure transmitters. We supply our connectors in various sizes such as ¼", ½" & ¾" NPT according to ANSI B1.20.1 through the help of thread milling with high finishing. Our valves offer enhanced sealing with high accuracy.
Specifications
Compact design of valve reduces the size of equipment
improved Reliability due to least Leakage Points
Least Operating Rotation
Standard Non Rotating Tip
Hard Stem Tip for Effective Shutoff for a high Durability
Color Coded Dust Cap provided
Bonnet Locking facility to avoid accidental removal
Quality Material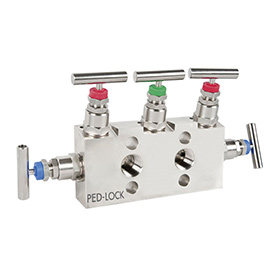 Five Way Manifold Valves
We manufacture finest quality five way manifold valves which are employed for connecting system impulse lines as well as transmitters having very high pressures plus temperatures. These valves are extensively esteemed by our customers owing to their long-lasting finishing standards, ideal finishing as well as excellent durability. Additionally, this array is accessible at the most affordable rates.
Specifications
Max. Pressure:6000 PSI
Max. Temperature of media :250
MOC :SS316 or SS304
Input Port :1/2" NPT Female
Output Port :1/2" NPT Female
Bolt :UNF7/16-20
Screw connected
Instrument :54mmx41.3mm
Salient Features
Robust
Durable
Precise
Highly effective
Affordable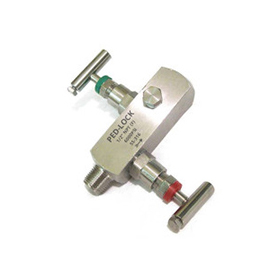 Rm Type Manifolds Valves
Rm type manifolds valves are applied for pressure based instruments for their interception, and are accessible for diverse installation categories along with diverse methods. They are designed to offer a protected & consistent pressure measurement as well as flexibility by inner course installation. They are intended for static pressure along with liquid level regulation. We make them with high quality material employing the best contemporary technology. They are very cost-effective and are available at very reasonable rates. Moreover they offer trouble-free installation and are very easy & cheap to maintain.
Salient Features
Strong valve
Tough and durable
Precisely engineered
Highly efficient
reasonably priced